Ahatanhel Krymsky Sesquicentennial Conference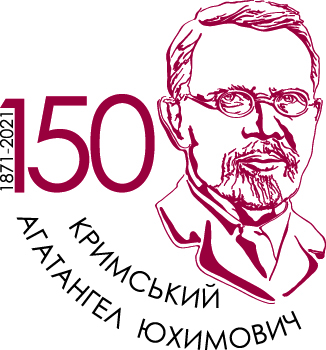 Dear colleagues!
In 2021 we mark the 150th anniversary of Ahatanhel Krymsky (1871–1942) – an outstanding Ukrainian orientalist, linguist and literary critic, writer, translator, and public figure.
Ahatanhel Krymsky is one of the founders of the Ukrainian Academy of Sciences (1918), he held the posts of its permanent secretary (1918-1928), director of the Institute of Ukrainian Scientific Language (1921–1929). He is revered in Ukraine as the  founder of the local school of Asian studies and literary translation from Near Eastern languages.
We cordially invite you to take part in this scholarly conference scheduled for October 19, 2021.
Discussion topics include but are not limited to:
Biography and intellectual legacy of Ahatanhel Krymsky;
Asian history, languages, literatures, written artifacts, religious and philosophical teachings; modern Asia; contacts and relations between Ukraine and Asian countries;
Ahatanhel Krymsky's legacy in light of modern linguistics paradigm;
Ahatanhel Krymsky and the issues of contemporary Ukrainian linguistics, Slavic studies, Turkology, Arabic studies;
Library and archival studies (Ahatanhel Krymsky's personal archive and library in light of current research).
As part of the Conference, the following round tables are scheduled to take place:

Codification of modern standard Crimean Tatar language: lessons learned, problems and prospects

Ahatanhel Krymsky's  archive and library in light of current research.

Working languages ​​- Ukrainian, English.

Abstracts (from 2,000 to 5,000 characters, including spaces and bibliography) are accepted until September 15, 2021 in electronic format (MS Word or RTF ).

Please send these to e-mail:

chytkrymskogo@gmail.com (subject: Krymskyi)

Please note that the Organizing Committee reserves the right to reject the paper without stating the reason. The results of the selection process will be notified to each contributor's e-mail no later than September 20, 2021.

Organizing Committee

<!— END article_content —>