Margaryta Aradzhyoni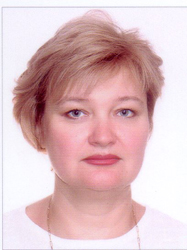 Leading Researcher, Ph.D. History
 e-mail: margarad24@gmail.com
skype: margo_arama
Main research interests:
Ethnic history and culture of national minorities of southern Ukraine and, in particular, of Crimea.
Interethnic Relations, Education of National Minorities, Development of Intercultural, Civic and Peacebuilding Education in Ukraine for Children and Adults.
Museum pedagogy, development of cultural and educational tourism.
Promotion of science.
---
Research topics:
Study of the history and culture of the Greeks of Ukraine.
Ethnic history and culture of the Crimean region.
Source Studies.
Development and implementation of programs and manuals of the Integrated Program for Children and Adults «Culture of Neighborhood» in the Formal and Non-formal Education System of Ukraine in order to develop intercultural, civic and peacebuilding education and to reduce conflict potential in the country.
---
PhD thesis:
PhD in Humanities (History). Dissertation: "Historiography of the Ethnic History and Culture of the Greeks of the North Azov Sea (1780-1990)" in the specialty 07.00.06 – Historiography, Source Studies and Special Historical Disciplines. Defended in a specialized scientific council D 01.43.01 at the M. Hrushevsky Institute of Ukrainian Archeography and Source Studies. National Academy of Sciences of Ukraine. (Kyiv, Ukraine), 1995.
---
List of main publications:
Араджиони М. А. Греки Крыма и Приазовья: история изучения и историография этнической истории и культуры (80-е гг. XVIII в. – 90-е гг. ХХ в. ) [Greeks of the Crimea and the Sea of Azov: the history of study and historiography of ethnic history and culture (80s of the XVIII century – 90s of the XX century)]. Монография. – Симферополь : Издат. дом «Амена», 1999. – 132 с.

Араджиони М. А. К вопросу об этнолингвистической ситуации в Горном Крыму в XVI-XVIII вв. (по материалам исследований говоров приазовских греков) [On the ethnolinguistic situation in the Crimean Mountains in the XVI-XVIII centuries. (based on studies of dialects of the Azov Greeks)] // Записки Історико-філологічного товариства Андрія Білецького. – Київ, 1998. – Вип.2. – С.70-86.

Хрестоматия по этнической истории и традиционной культуре старожильческого населения Крыма. Часть 1: Мусульмане: Крымские татары, цыгане [A reader on ethnic history and traditional culture of the old-timed population of Crimea. Part 1: Muslims: Crimean Tatars, Gypsies] / под ред. М.А. Араджиони, А.Г. Герцена. – Симферополь, 2004. – 768 с.

Культурно-этнографический туризм в Крыму : Справочное, научно-методическое пособие [Cultural and ethnographic tourism in Crimea: Reference, scientific and methodological manual] / Ред.-сост. М. А. Араджиони, Ю. Н. Лаптев. – Симферополь, 2004. – 354 с.

Межэтнические отношения в Крыму: поиск путей раннего предупреждения конфликтных ситуаций: Сборник исследований, документов и материалов [Interethnic Relations in Crimea: Searching for Ways of Early Warning of Conflict Situations: Collection of studies, documents and materials] / Под ред. М. А. Араджиони.- Симферополь, 2005.- 612 с.

Араджионі М. А. Греки Криму: історія і сучасне становище (етнокультурна ситуація та проблеми етнополітичного розвитку) [Greeks of Crimea: history and current situation (ethno-cultural situation and problems of ethno-political development)]. – Сімферополь: Сімферопольський філіал Національного інституту стратегічних досліджень, 2005. – 92 с.

Араджиони М. А., Пригарин А. А. Об этнических стереотипах греков Крыма на рубеже XX-XXI вв. [About ethnic stereotypes of the Greeks of Crimea at the turn of the XX-XXI centuries]// Материалы по археологии, истории и этнографии Таврии.- Симферополь, 2008. – Вып.14. – С.620-645

Араджионі М. А. Формирование армянских общин в Восточном Крыму (конец XVIII – начало XIX вв.) [The formation of Armenian communities in Eastern Crimea (late XVIII – early XIX centuries)]// Исследования по арменистике в Украине.- Вып.1. – Симферополь : ЧП «Предприятие Феникс», 2008. – 200 с. С.81-95.

Aradzhyoni M. On a question of the Tavricheskaya province Greek nobility at the end of the XVIII-XIX century (by the documents of the State Archives of the Autonomous Republic of Crimea) // Russia and the Mediterranean. Proceedings of the First International Conference.- Volume 2. Athens, 2011. – S. 133-158.

Араджиони М. А. Занятия греков Балаклавы и Севастополя. Ремесленники (1890-е-1930-е гг.) [Classes of the Greeks Balaclava and Sevastopol. Artisans (1890s-1930s)] // Греки Балаклавы и Севастополя.- М. : Индрик, 2013. – С. 161-173.

Араджионі М.А. Грецькі дворянські роди на Півдні України: досвід вивчення (за документами Державного архіву в Автономній Республіці Крим) [Greek noble families in the south of Ukraine: experience of study (according to documents of the State Archives in the Autonomous Republic of Crimea)] // Сходознавство. – 2016. – № 73—74. – С. 3-62.

Αραντζιόνι Μ. Η Ιστορία του Σχηματισμού των Ελληνικών Κοινοτήτων στα εδάφη της Ουκρανίας [The History of the Formation of the Greek Communities in the Territories of Ukraine] // ΑΓΓΕΛΙΑΦΟΡΟΣ . – Δεκέμβριος, 2017. – Σ. 206-215.

Араджионі М. А. Професійний профіль і основні заняття греків-містян Криму наприкінці ХІХ – у першій половині ХХ ст. [Professional profile and main occupations of Crimean Greeks in the late nineteenth – in the first half of the twentieth century.] // Сходознавство. – 2017. – №79-80. – С. 3-25.

Культура добросусідства : Комплект програм спеціального інтегрованого курсу для закладів освіти України [Culture of Neighborhood: A set programs of special integrated course for Ukrainian educational institutions] / [авторський колектив під керівництвом М. А. Араджионі]. – К. : ТОВ «ЛітМір», 2018. – 260 с.

Араджионі М. А. Греки [Greeks] // Енціклопедія історії України. Том «Україна – українці». – 2018. – Книга 1. – С. 486–494.

<!— END article_content —>