Denys Shestopalets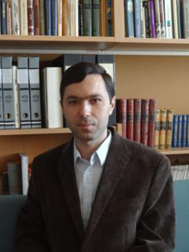 Junior Fellow, Candidate of Sciences Degree in History (2008)

 e-mail adfontes83@gmail.com
 
Main research interests:
Arabic and Islamic Studies
Sociology of Islam
Religious conversion
Politics and religion
---
Research topics:
Conversion to Islam in Ukraine, Western Europe and North America
Securitization of Islam
Islamic law in Europe
---
PhD thesis:
PhD in Humanities. Dissertation: «Ibn Teymiyya's "The Correct Answer to Those Who Altered the Religion of the Messiah" as a Document of Islamic Antichristian Polemical Literature of the XIII–XIV centuries.»
---
List of main publications:
Шестопалець Д.В. Іслам  в Україні: проблема релігійного авторитету [Islam in Ukraine: The Problem of Religious Authority] / Шестопалець Д.В. //Українське релігієзнавство. – 2011. – № 60. – с. 161-170. 
Шестопалець Д.В. Від православ'я до правовір'я: деякі аспекти конверсії в іслам серед священиків РПЦ [From Orthodoxy to Orthopraxy: Some Aspects of Conversion to Islam among Priests of the ROC] / Шестопалець Д.В. //Українське релігієзнавство. – 2011. – № 59. – с. 134-146.
Шестопалець Д.В. Християнство в Корані: полемічний аспект [Christianity in the Quran: The Polemical Aspect] / Шестопалець Д.В. // Сходознавство. – 2011. – № 55-56. – с. 218-246.
Shestopalets D. Some Notes on the Interpretation of al-Baqara, 143 in Medieval Quranic Exegesis / Шестопалець Д.В. // Проблеми джерелознавства, історіографії та історії Сходу. – Луганськ, 2013. – с. 251-257.
Шестопалець Д.В. Об'єктивність та/або конфесійність? Проблема «інсайдер-аутсайдер» в дослідженні релігії [Objectivity and/or Confessionalism: The Issue "Insider-Outsider" in the Study of Religion] / Шестопалець Д.В.  // Релігієзнавчі нариси. – 2012. – № 3. – p. 47-62.
Шестопалець Д.В. Деякі аспекти встановлення покарання за перелюб в Корані та Сунні // Polyphonia Orientis: мова, літера тура, історія, релігія. До ювілею В.С. Рибалкіна. Збірник наукових статей. – Київ: Інститут сходознавства ім. А.Ю. Кримського НАН України, 2013. – с. 114-135.
Shestopalets D. Interpretation of the Terms Muhkamat and Mutashabihat in Medieval Qur'anic Exegesis // Східний Світ. – 2013. – № 4. – p.  144-151.
Shestopalets D. The Secularization of Islam: Towards a Comprehensive Analysis // Східний Світ. – 2014. – №1. – p. 147-161.
Шестопалець Д.В. Теологічні позиції ДУМУ в контексті інституціалізаційних процесів в ісламі в Україні [Theological Ideas of the DUMU in the Context of the Institutionalization of Islam in Ukraine] / Шестопалець Д.В. // Українське релігієзнавство. – 2014. –  № 69. – p. 71-80.
Шестопалець Д.В. Ідеологічні дискусії в мусульманському середовищі України як прояв релігійної та політичної конкуренції [Ideological Debates in the Muslim Community of Ukraine as a Manifestation of Religious and Political Competition] / Шестопалець Д.В. // Іслам та громадянське суспільство в часи випробовувань. Аналітична доповідь (За ред. О.В. Богомолова). – К.: Інститут сходознавства ім. А.Ю. Кримського НАН України, 2015. – с. 56-79.
Shestopalets D. The Quranic origins of the wasatiyya concept: a critical view / Шестопалець Д.В. // Східний Світ. – 2015. – №4. – с. 77-86.
<!— END article_content —>